Bread: a Baker's Book of Techniques and Recipes
by Jeffrey Hamelman
I've had this one recommended to me a few times. It's for
intermediate home bakers. Those who have read Bread Baker's Apprentice or other artisan beginner books and want to move on a little. The front section is very descriptive, taking in every step in the baking process and describing what's happening on a scientific level and how that effects the product. When I borrowed this from the library I found the recipes so good that I put a copy on our Amazon list for Dean's next computer book splurge. It came today. For anyone interested in quality home baking this would be my top choice.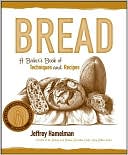 Flatbreads & Flavors: a Baker's Atlas
by Jeffrey Alford and Naomi Duguid
I've had this one on my interlibrary loan list since I made pitas for the first time. This is a fun book to page through. The photographs are beautiful, not just of food but of markets and people from around the world. There are stories, bread recipes, and recipes for other cultural foods. I was surprised that there was not just a lot of Lebanese, Italian, and Egyptian breads here and little else. There were breads from Iran and Norway and Mexico. This will go on the Amazon list for purchase some day. It's not as intrinsic as the Hamelman book, but its very intriguing. I have yet to try anything from it.
The Art and Soul of Baking
from Sur le Table
Was on the new books shelf at the library. A very straight-forward description of the foods and methods used in baking and pastry making. Nicely detailed without being overwhelming, a lot like
Cookwise
by Shirley Corrhir in that respect. I learned a lot about pie crust and brioche and danish sweet bread. How they work and how to best work with them. I was impressed with the description. Recommended for people interested in pastry. I probably won't buy because my interests don't lie in that direction. I'm not sure the small bread baking section would be worth the look although the Introduction on ingredients was enlightening and worth a look at your library.