I don't have a huge cookbook collection. In fact, I'm not a very good cook. That's one reason I appreciate a well-written cookbook. One that teaches me something new and doesn't use too many ingredients that I (not to mention my kids) would never eat. Anchovies? Nope. Capers? I think not. More than 10 ingredients? Who has the time?!
That's why I've been appreciating
Andrea Chesman's
cookbooks this week. I checked two of the m out of the library.
This one goes through the year and gives recipes for vegetables as they come into season. There's also a little bit of gardening type information. Great for seasonal eating.
This is the book that started it all. I picked it up this winter and loved the specifics about roasted vegetables. I had no idea vegetables like green beens could be roasted and turn out so delicious! Very kid friendly.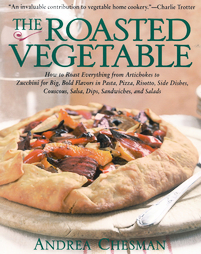 And my final entry, friendly to both vegetarians and meat-eaters. Way more then just kabobs. I haven't had time to dive into this one yet (our grill needs constant fiddling).
So far we've made broccoli sesame noodles, sauted zucchini, new potato and corn chowder, and smashed potatoes. Dean took the initiative and created a fourth dish from the remains of some sauted zucchini. It was a pesto, garlic oil, zucchini, pasta thingy.

He's so much more creative with food then I am. Now if I could just set him after those aging carrots, broccoli stems, and kohlrabi.